An ACerS pre-recorded course

Learn about the firing process in ceramic manufacturing
Instructor:  Denis A. Brosnan, Ph.D., P.E.
Course description
The course Firing of Ceramics will equip students to use modern technology to understand the relationship between chemical and physical processes within the ceramic as it is being fired, so as to optimize the firing process and to attain characteristics given in published or proprietary standards. The course also provides practical information on combustion systems and kiln control with a special emphasis on safety practices for ceramic kilns employing solid, liquid, or gaseous fuels. The course also uses readily available calculation utilities so that "what if" questions can be posed relative to kiln insulation. The course ends with a discussion on firing defects and kiln air emissions.
In the long history of firing of ceramics, iterative firing trials were used to design firing schedules. In today's world, laboratory investigations provide a complete understanding of chemical, mineralogical, and physical changes during firing. The linkage between chemical analysis (as by X-ray fluorescence), mineralogical analysis (as by X-ray diffraction), and dimensional changes (by thermal dilatometry), with guidance by phase equilibrium diagrams, provide a scientific approach to the firing process. Examples are given in heavy clay ceramics, porcelain products, alumina, and cordierite ceramics.
Combustion systems are described with various fuels starting with fuel delivery, mixing with combustion air, burners, and control. The goal of this practical section of the course is to provide information on each component of the combustion flow train. Key information is provided on fuel safety to supplement each organization's safety program.
The kiln simulation tools (apps) allow the students to avoid the manual calculations that burdened yesterday's personnel. The apps enable students to perform quick predictions of kiln performance applicable to intermittent kilns (which can be extended to zones in a continuous kiln).
The course ends with descriptive information on kiln air emissions so that the student can gain a perspective on environmental impact of firing. Useful information for plant operators, management personnel, and research engineers, is provided so that all can find information meeting their particular educational needs.
Course outline: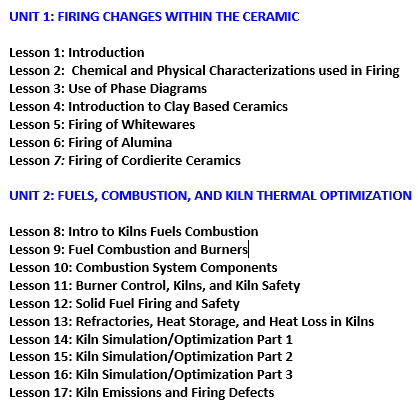 Who will benefit?
Firing of Ceramics is intended for practitioners of all educational backgrounds with concepts presented in easily understandable terms. This includes:
Manufacturing operators

Production supervisors

Managers, engineers, and scientists
What you'll learn
How details of changers within the ceramic during firing influence fired properties and attainment of product standards.
How modern laboratory tests aid in understanding the firing process.
Gain awareness of components of the combustion system flow train, be able to visually identify these components, understand combustion efficiency as a function of excess air, and gain insight into control of combustion systems.
Review basics of fuel and kiln safety.
Provides an introduction to refractory insulation and the evolution of kiln linings from hard brick to ceramic fiber.
Use furnace utilities or "apps" to project reductions in fuel costs in firing.
Customized training
Looking for training customized to your company? Do you want a course taught privately to your employees? Call Customer Service at 614-890-4700 for details, or contact Marcus Fish to learn about training benefits for our Corporate Partners.
For other questions about ACerS online courses, email customerservice@ceramics.org.
What students are saying about this course:
"Dr. Brosnan's teaching is both intellectually stimulating and very approachable.  He provides a wealth of knowledge and wisdom on the subject matter."
Denis Brosnan, P.E., FACerS, is a ceramic engineer specializing in processing, characterizing, and improving ceramic products while developing a specialization in forensic analysis. He is currently a consultant working on mineral issues, failure analysis, and historic materials characterization.
He previously taught courses in drying and firing of ceramics at Clemson University, worked for more than 20 years in industrial positions in refractories and technical ceramics, and coauthored the book Introduction to Drying of Ceramics.
Brosnan received the A. F. Greaves-Walker Award from the Society in 2016 and retired as the Bishop Endowed Chair Emeritus from Clemson University.
Brosnan holds a Ph.D. in ceramic engineering from Iowa State University.
Recorded course details
The course includes 17 lessons covering a total of ~16 hours of instruction.
| | |
| --- | --- |
| Member type | Purchase price |
| Non-members* | $995 |
| Member, individual* | $845 |
*Employees of ACerS Corporate Partners receive the discounted Individual Member rate.  Sapphire Corporate Partners receive an additional 20% discount; Diamond Corporate Partners receive an additional 30% discount.  Please contact Customer Service or 614-890-4700 to register employees at the discounted Corporate Partner rates.